Each year during October I check in with Rex and have him answer a few questions about his brother. Its fun to see what he has to say and is a nice subtle way to take him pulse on the topic. We've never made a big deal of talking about it but it is obviously part of our lives. Justin and I made a conscience decision not to sit Rex down and talk to him about Down syndrome when we learned Riley's diagnosis prenatally. We didn't want Rex to have one minute of worry or doubt about his brother. We knew that the best thing we could do for Riley was to have a brother that treated him like a baby brother. Rex is Riley's biggest fan and greatest teacher.
So here are Rex's thoughts. I love how the mind of a 10 year old boy works.
What is Down syndrome?
It makes people take longer to learn something. And people with Down syndrome kinda look a like.
How do Riley and Ella look alike?
The way their faces are round. Their fingers are both pretty small.
What do you think about having a brother with Down syndrome?
I think its fun to have a brother with Down syndrome because you get to wrestle with them. And they are really funny and fun to play with.
So Riley is fun to play with because he has Down syndrome?
Ya, like when we bounce on the trampoline. He can't jump as high as other kids so I can bounce him really high.
What is the best thing about having Riley for a brother?
The best thing about having Riley for a brother is getting to teach him new things. Like when I get to wrestle with him to help make him stronger. I get to hang out and watch TV with him and he lets me pick the show most of the time.
And he is really funny and makes up random things. People with Down syndrome have way more imagination than other kids.
What is the worst part about having a brother with Down syndrome?
That's a toughie. He doesn't listen very well. And he kicks me a lot.
What would you do if someone made fun of Riley for having Down syndrome?
I would tell them to stop making fun of my brother. If they were making fun of him because it was hard for him to learn things I would tell them that Riley's brain just takes a little longer to learn things than ours do.
How would it make you feel?
It would make me mad because he is my brother. I'd tell them to stop.
What would you tell a friend that was worried about having a brother with Down syndrome?
I would tell them not to worry because its so much fun to have a brother with Down syndrome. Its fun to help him learn knew things. It makes me happy to be able to help my little brother.
What is like to have Riley at your school this year?
Its fun because I get to see my brother every day at school. And its also annoying because people always talk about him and it gets really old.
What do they say about him?
They say that he is cute and that he's fun to do work with. (The 4th grade class buddies up with the kindergarten class) They tell me stories of what he does in class.
Do you get tired of hearing how cute he is?
Yes, I just tell them to try living with him for six years.
What do you think about hanging out with friends like Hunter and Micah who have a brother or sister with Down syndrome?
Its cool because they are the only people that know how annoying and funny our brothers/sisters can be.
Do you and Hunter talk about Riley and Ella?
No we don't. But we don't have to he just gets its and thats cool.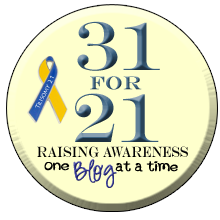 Grab This Button