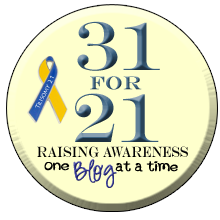 October has snuck
up on me way to quickly but its here and as we all know that means it is Down syndrome awareness month. Could there be a better reason than celebrating Riley to get to blogging again??? I didn't think either. I will be posting each of the 31 days of October in honor of Riley and all of his friends that share a lil something extra.
Riley has been growing by leaps and bounds and there is lot to share that is going on in his world. The rest of the family has been busy too so we'll spend October getting to know each other again. Life is crazy as usual so I'm going to need lots of support from all my faithful commenters to help me make it through posting each day of October. For those of you that don't blog please still leave a comment and let me know you've stopped by. Just choose anonymous and don't forget to leave your name so I'll know you stopped by.
Stay tuned for adventures of the world of Hurricane Riley. There are lots of adventures to share... potty training and hearing aids to name a few. See you tomorrow!

1st day of preschool 2011